Just realized that my last post was written 4 years ago and today I have the desire to write a little about some news. Well, not so new news.
My daughter is at a church' summer camp as I write, and I am thinking about my life and Jesus Christ inconditional love for all of us.

Last year a huge miracle happened.
And I'm sure The Lord was behind it 1000%

We bought the two contiguous properties next door to our house and it happened out of the blue.
We didn't have any plans and we were not expecting to buy any property any time soon.
In fact because of Covid we were trying very hard to save money for some eventual future disaster.

Anyway, originally our property was built on 1-1/2 acres. And the entire land was surounded by this massive stone wall, the highest part of which is about 8 feet.


In about the 1950s, the Doctor who had bought the house subdivided the property into 5 city lots and sold 3 lots to complete strangers.

In the 1980s, a developer built two buildings–one on each of the 2 properties we bought last year.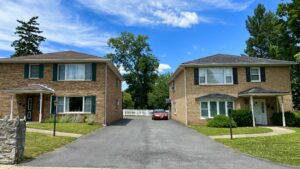 Each building is a duplex, and the downstairs apartments mirror the upstairs. Each apartment is about 1300 sf.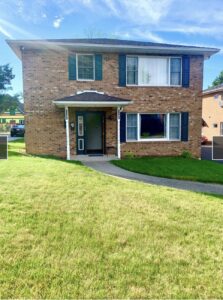 The lot facing East was bought from one neighbor who lives across the alley who ended up reselling to the folks we bought our house from.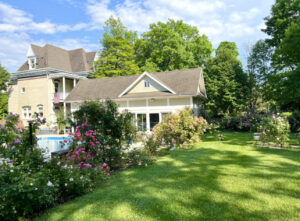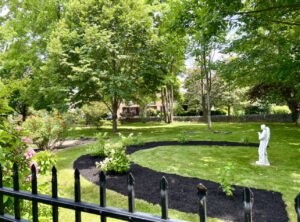 When we bought the house, my husband and I used to play about buying everything again, and unifying all the land. However, it was just playful fantasizing. It would be impossible since it would be crazy expensive and unlikely, since the buildings had two different owners. So why bother?

Years went by, and we kept playing/saying,
"-How amazing it would be if we could reclaim all this land together once again",
"- Can you imagine if we could have the entire stone wall ?"

We would laugh and move on to a different, more realistic subject; family and pets ❤️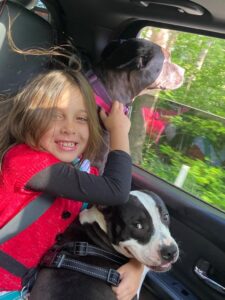 Last April, 2021 my husband was polishing his car in the driveway when the neighbor approached him, and introduced himself as the landlord of the building next door to us and offered to sell the place.

We have been in the house since 2013, and 7 years later we finally met the neighbor for the first time ever.

He was direct and to the point, and said he was ready to retire and move to Florida to live a simple life by the ocean fishing and because of that dream of his, he wanted to get rid of everything he owned in Maryland.




So he said he was thinking of putting the building on the market but first wanted to talk to us, and see if we had interest.

He said he had tried knocking on the front door a couple days before, but apparently no one was home.

And now he saw my husband outside and saw it as an opportunity to ask if we had any interest in his property.
This happened at a time where houses and buildings in my neighborhood were selling like hot cakes. Houses behind mine was on the market and had 11 offers at the same time and were being sold above the asking price.

Why this man took his time and put effort in waiting to ask us? We were not friends.
He could have put his building on the market and had a closed deal soon after.

But he waited for ask us first. He was committed to giving us a chance before looking for a broker.

I have an answer. God, my Lord Jesus Christ.

He hears and knows the desires of our heart before we even ask and talk to Him.
He heard our jokes and probably He laughed and chuckled because He already wanted to give that to us. And He is good. He loves to amuse us. I am not suggesting that The Lord gives luxuries to His children, but for whatever reason, He sometimes chooses to grace us. We certainly do not deserve His grace or favor. And yet there it is. Overwhelming. We hope to always use what He provides to help others and to advance His Kingdom.

A month or 2 later, the second property–the farthest from our home–was also sold to us.


God is amazing and He is kind, and generous and wonderful. If the building by the wall was the first one to be on the market, we would never give it a thought. Just because what is the point of buying a building if there is another building between the main house and the second one?

What are the odds that two buildings from different owners would be for sale practically at the same time?

Despite all the odds, we were able to unify/ recover all the 5 city lots once again, as it was originally planned as in 1895.  
And  for my delight, I have more space to gardening. 😬
The wood fence that was dividing the property lines was removed and transformed/ recycled/ reused in an beautiful horizontal fence.

I planted 13 fruit trees, including apple, pears, plums, peach trees. Several Hydrangeas Panyculadas, Hydrangea Trees, and few Japanese Maple trees.
         The Squirrels are partying hard and fattening up around here too!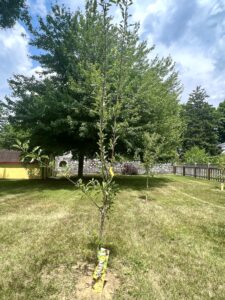 Of course I had to have some more roses.🤗 I'm happy.
And now since I gained more space I planted my favorite tree in the world.  2 Salix Babylonica Green Weeping Willow Trees.  Yep!  Im brave.  So many people say those trees are messy and very brittle, but to me they look so Victorian, and magical when fully grown.  So, it totally worth the risks though. 
I'm very happy. I'm also busy. God is good.

The LORD is my shepherd; I shall not want He maketh me to lie down in green pastures: he leadeth me beside the still waters. He restoreth my soul.